Sansevieria Superba
Since 2016, Joy Plant has grown the most beautiful top quality green plants.
FloraXchange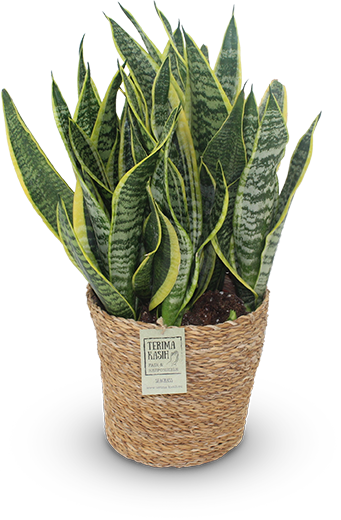 General information
The Sansevieria Superba originally grows in West Africa. In the Netherlands these houseplants are better known as Vrouwentongen and in Belgium as Wijventongen.

The leaves are dark green with light gray-green horizontally running zigzagging stripes. The leaf size varies and can be up to 90 centimeters long by 6 centimeters wide. In optimal growing conditions even up to more than a meter in length.

The plant exchanges oxygen and carbon dioxide through the Crassulacean Acid Metabolism that is found in a small number of species of plants and serves to withstand long drought and heat.

Of the Sansevieria there are no less than 66 species.

Many people think that it is a succulent plant, officially it is not.

The Sansevieria is part of the Asparagus family.

The Sanseveria should be repainted to a larger pot size every year.

Make sure that the next pot size is at least 20% larger than the previous one.

The Sansevieria will make your living room shine!
Pot size
The varieties are available in the following pot sizes:
Care Sansevieria Superba
Like cacti, the Sansevieria requires extremely little water. In the winter you can safely not water it for 6 weeks and in the summer once every two weeks is also sufficient. Simply do not water until the soil has completely dried, also at the bottom of the pot.
Not much

1 year

Strong air purifying
Partial shade

Toxic

Not edible
Joy Plant, innovative through renewal