Aloë Vera
Since 2016, Joy Plant has grown the most beautiful top quality green plants.
FloraXchange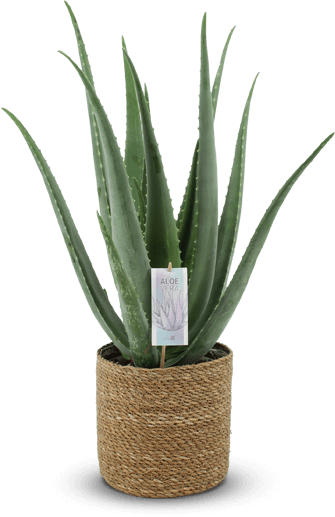 General information
The Aloë vera is a must-have for everyone! It doesn't matter whether you are young or old. The Aloë Vera fits with everyone. The beautiful dark green plant looks fantastic in the living room, terrace. With its beautiful colour and spines the Aloë Vera fits into every interior! In Africa they call the plant eel wine, which means bitter juice. Pure sap from an Aloë vera is also really very bitter. According to old recipes, you can only use an Aloë Vera that is at least 3 years old. Over the 3 years the flavourings and juices come into the plant that ensure the medicinal operation. Most people know Aloë mainly due to its medicinal effects. The juices of an Aloë Vera are used in many products. Just take a look at a chemist's shop. In the creams, shampoo, gels, drinks, healing products, masks and in many more products. Rub the juice from an Aloë Vera on a painful place and there is a chance that it will heal. Stung by a stinging nettle? Aloë Vera juice is the solution! The Aloë Vera is grown in many places in the world. A lot of Aloë's come from America, Guatemala. Also on the Spanish Caribbean islands the Aloë Vera is much more common. The Aloë Vera is on the NASA list of plants with the best air-purifying properties. The Aloë Vera removes harmful substances such as benzene and formaldehyde from the air, which are often caused by paint and chemical cleaning agents. The Aloë Vera originates from Tanzania. Where the parent plants of the Aloë Vera are grown. The Aloë stems are cut off and re-potted from the mother plants so that the Aloë can again become a beautiful large fat pot plant.
Pot size
The varieties are available in the following pot sizes:
10,5cm
12cm
14cm
19cm
24cm
Care Aloë Vera
Get the best out of the plant. Do not give the Aloë Vera too much water and place the plant in a place with sunlight. During the winter months the Aloë Vera doesn't like water too much. So only give the plant water once a month during the winter. During the summer the Aloë Vera can be given water every 10 days.
Not much

1 year

Strong air purifying
Partial shade

Non-toxic

Edible
Types
Barbadensis

Barbadensis vertakt
Joy Plant, innovative through renewal