Rhipsalis
Since 2016, Joy Plant has grown the most beautiful top quality green plants.
FloraXchange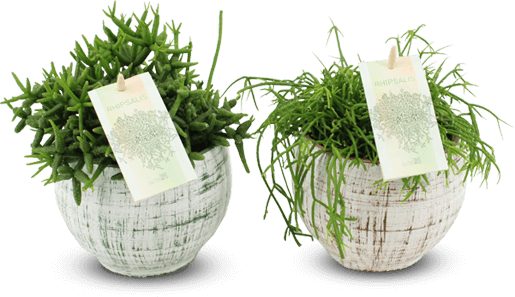 General information
The Rhipsalis is actually a cactus but without the prickly spines. This super-beautiful houseplant is an ideal plant for everyone. Young and old. The plant freshens up your home and gives you a calm feeling. The plant is also called rock coral and is as good as maintenance-free. Rhipsalis is quite OK with forgetful waterers, does not drop leaves and under ideal conditions is a richly-branched beauty. Research shows that the Rhipsalis is a purifier of the air. The plant cleans the air and absorbs the bad particles from the air. In the wild, the Rhipsalis grows on branches of trees and on rocks. There are some 60 different species of the Rhipsalis, of which we grow 9. A super beautiful plant from the jungle. The Rhipsalis originally comes from Tanzania. Where the cuttings of the Rhipsalis are grown.
Pot size
The varieties are available in the following pot sizes:
Care Rhipsalis
Get the best out of the plant. Do not give the Rhipsalis too much water, allow the soil to dry out first before the next watering. Do not put the Rhipsalis in the full sun, otherwise the Rhipsalis can otherwise become yellow.
Not much

1 year

Strong air purifying
Partial shade

Toxic

Not edible
Types
Burchelli

Cassutha Oasis

Hatiora

Horrida
Joy Plant, innovative through renewal